Just so that you know, my kids are also involved in my business quite heavily. I believe that teaching them how to be successful in the world of technology will provide them with countless opportunities. But I also benefit from their involvement. After all, sometimes the best ideas come from 4 year olds.

Although my bull dog, Bosco, was the only other person able to understand software consulting as well as I can, a few years we had to put him to rest. Nevertheless, as with any legend, his legacy lives on.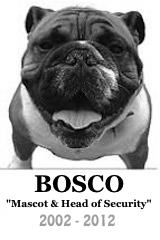 As a huge fan of Harley's, travel, and shooting, I would consider myself all-American. Experiencing new cultures, places, and people is one of the most valuable tools for developing a well-rounded perspective on life.

If you would like to learn about how I can use my skills (nunchuck skills, computer hacking skills, being awesome skills) to take your product to the next level of success, contact me right away. Together we will determine the next step necessary to take your business from "okay" to "awesome".